Welcome to The Hudson Inn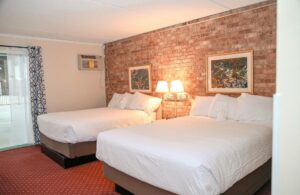 The Hudson Inn is the only full-service hotel in Morris, MN. We have 94 sleeping rooms, a full-size swimming pool, hot tub, kid's pool (1.5 feet deep), bar-restaurant, and multi-use conference and event center. We offer a wide variety of rooms including jacuzzi suites and kitchenettes. Our rooms feature flat screen TVs, mini-fridges, microwaves and free high-speed wireless internet services available throughout the hotel. We also serve a continental breakfast in the mornings.  Pizzas available every night and the grill is open Thursday-Sunday from 5:00pm-9:00pm.  Bar is open daily from 3:00pm-11:00pm. Happy Hour from 4:00pm-6:00pm.
The Hudson Inn has been updated with everything from brand new maintenance equipment to new paint. We've worked tirelessly to bring life back into this beautiful building. While we've updated countless aspects of the hotel, there are still some areas that need our love.
We've made the decision to open our doors while we are still in the updating process. During this process we ask you to please be patient with us as we continue to make our visions come to life. We feel like it's almost criminal to let this beautiful building sit empty without laughter and memories being built. Our number one goal and priority is to not only serve you but give back to this great community. Thank you for not only being patient with us but supporting us throughout this process.
We are located on Highway 28, one half of a mile away from the University of Morris, MN.